Leegloo Insulated Doors / Introduction of Subcomponents Leehwa Polytech's new Leegloo Insulated Doors combine modern styling with practicality. It is an

HACCP certified electric insulated door. (100T·125T)
Reason for Selecting Leehwa Polytech's
Insulated Doors
1

100% compliance with HACCP standards

Does not contain wood·cast material. Finished with PVC·aluminum·stainless steel

2

New design

Aesthetic elements have been accentuated through the application of new color patterns on the doors.

3

New belt-driven automated door

Completely redesigned to overcome shortfalls of existing chain-driven doors such as their weakness toward corrosion.


4

Lightweight and smooth door

The weight of the door has been reduced to ⅓ the weight of previous products allowing for a more smoothly operating door.

5

Very safe

If a foreign object gets stuck or the door is overloaded, the control panel automatically controls the operation of the door.


6

Uses a new BLDC motor

Extremely durable, quiet, and powerful


7

New antibacterial silicone packing used

Insulation guaranteed through the use of soft silicone


8

Manually operated handle

The door handle on the inside allows people to escape in case of blackouts.


[external handle]

[internal handle]

9

10-channel remote control

Possible to operate up to 10 doors with one remote control

Specification
※ Please turn it over to see the contents.
| Door Frame | Surface Material | Rubber Packing | Insulation | Heater | Other Material |
| --- | --- | --- | --- | --- | --- |
| PVC·aluminum | stainless steel·color coated steel sheet | antibacterial silicone | rigid polyurethane foam | fixed-temperature heater (automatic) | aluminum·stainless steel |
Sliding Insulated Door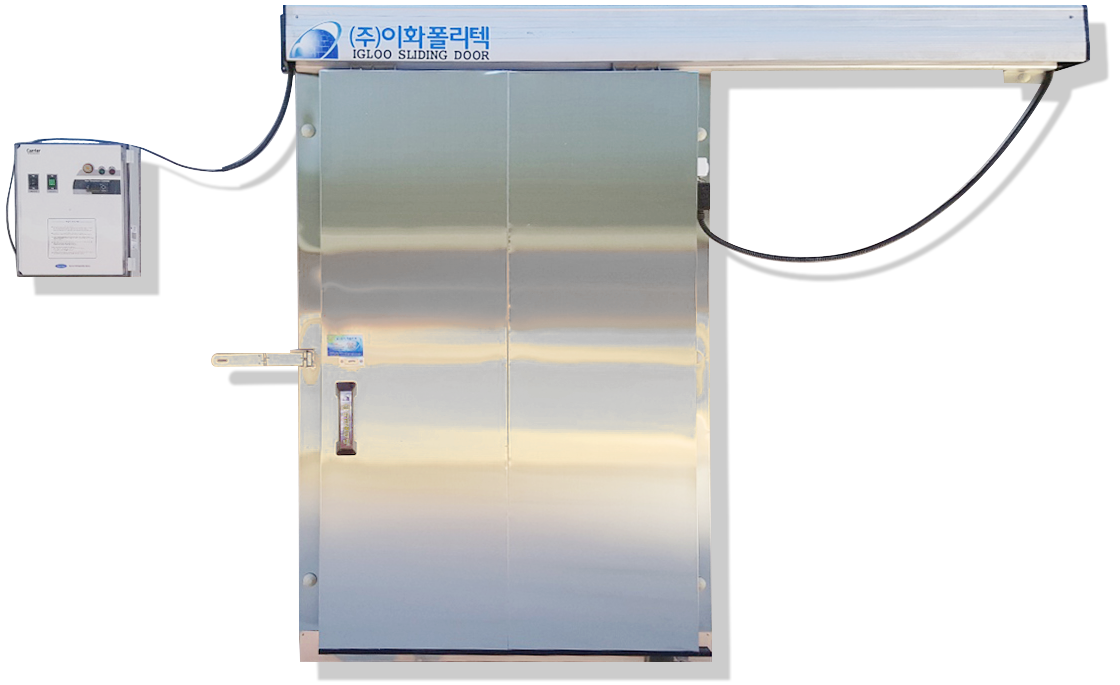 Sliding doors to allow for easy access
Unrestricted open/close direction lessening the burden for designers
Ideal for cold storage rooms for agricultural or fishery products which require frequent forklift access
Can be manufactured in large sizes (maximum: W 4,000㎜ × H 4,450㎜)
Types of Sliding Insulated Doors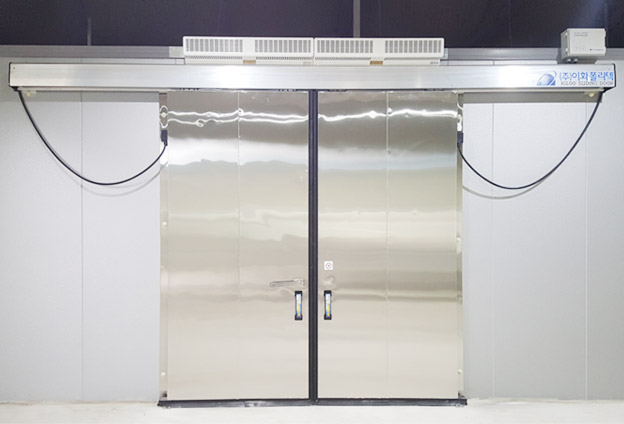 [Dual Automatic Sliding Door]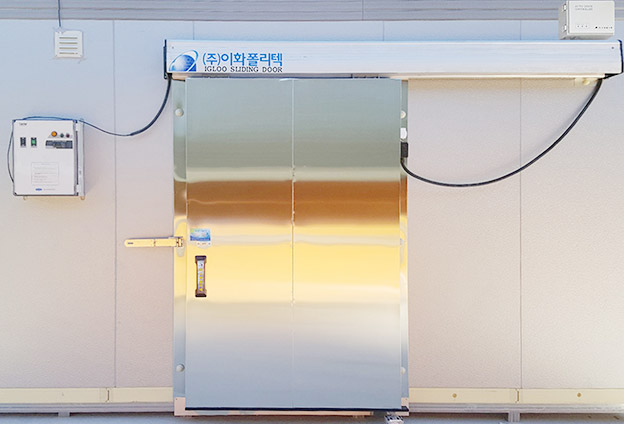 [Single Automatic Sliding Door]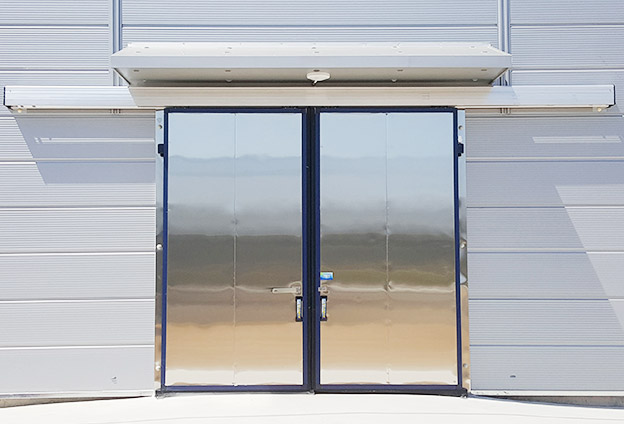 [Dual Manual Sliding Door]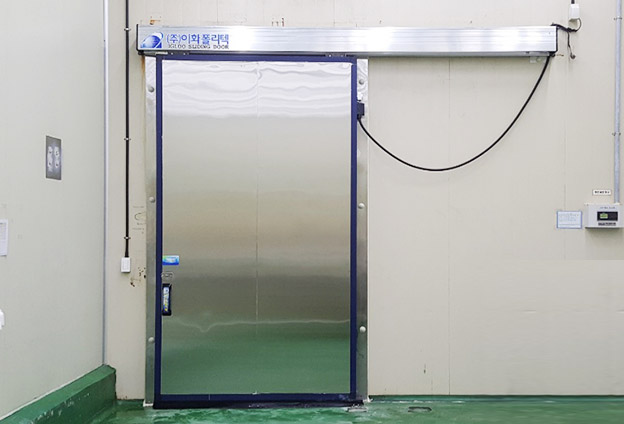 [Single Manual Sliding Door]
Overlap Doors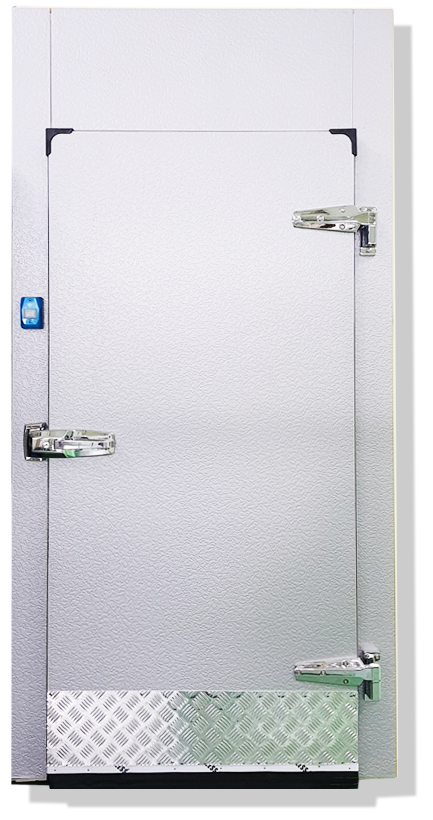 Our urethane overlap doors are cheap to install, operate and swap out. They also have excellent airtightness and durability due to the weight of the doors being distributed around the door frame which compresses the insulation packing. It is ideal for small cold storage rooms which require wheelbarrow access.
Types of Overlap Doors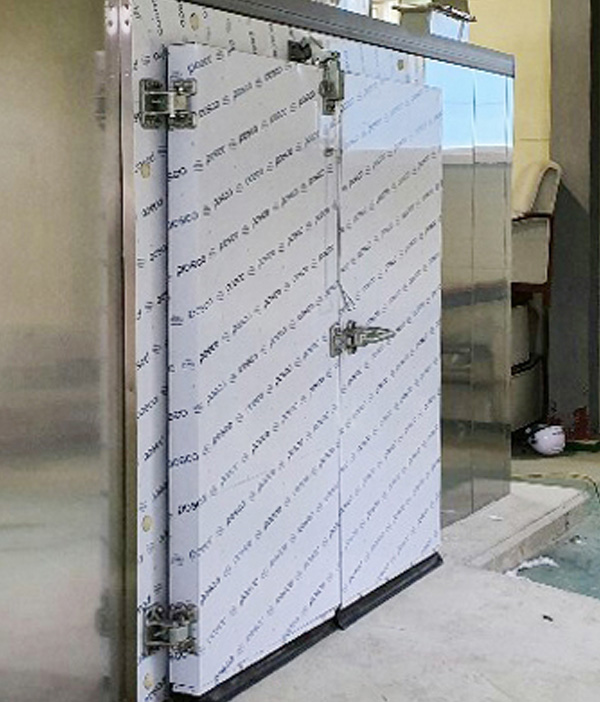 [Dual Overlap Door]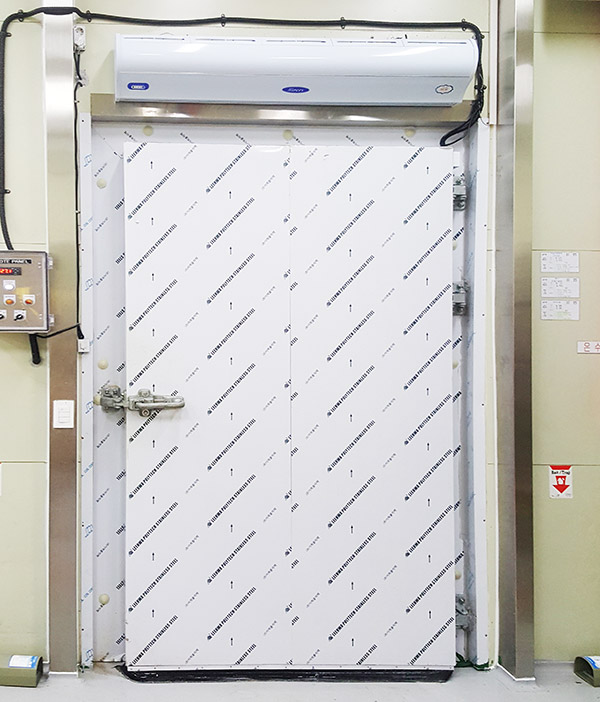 [Single Overlap Door]
Special Doors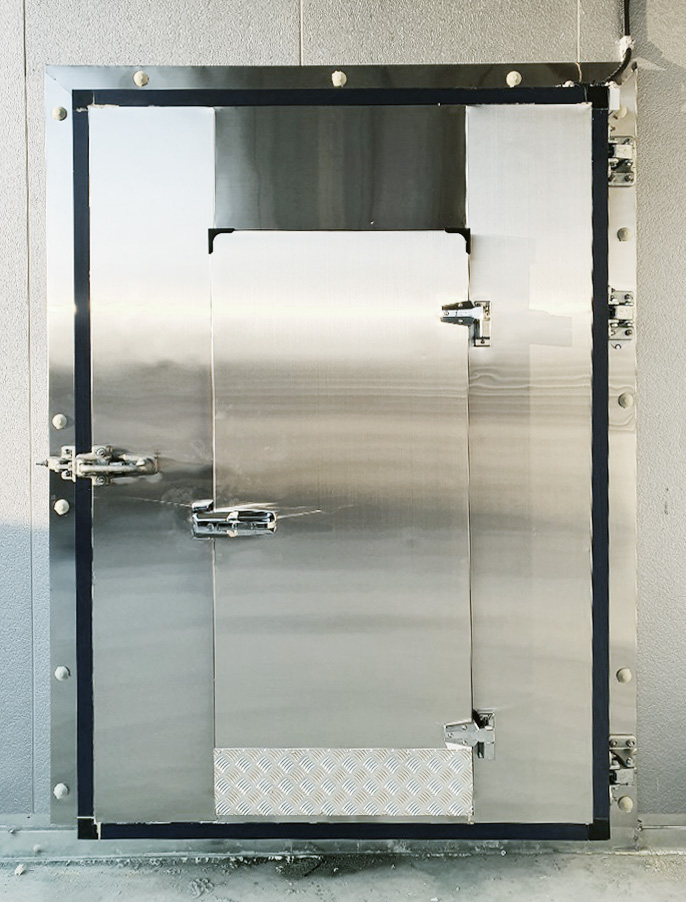 [Dual Opening Door]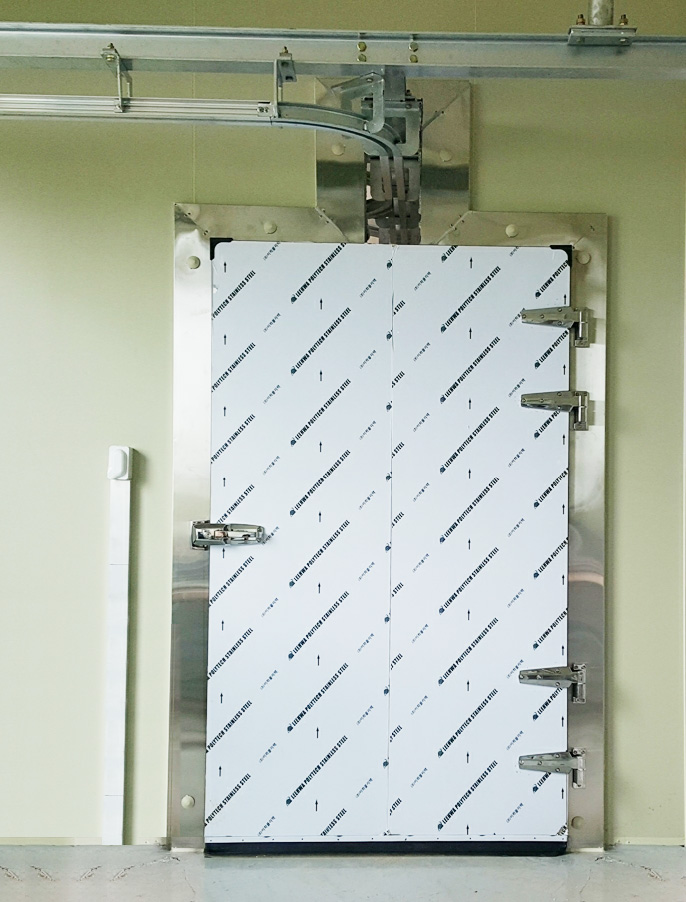 [Meat Processing Door]
Sub-door & Vent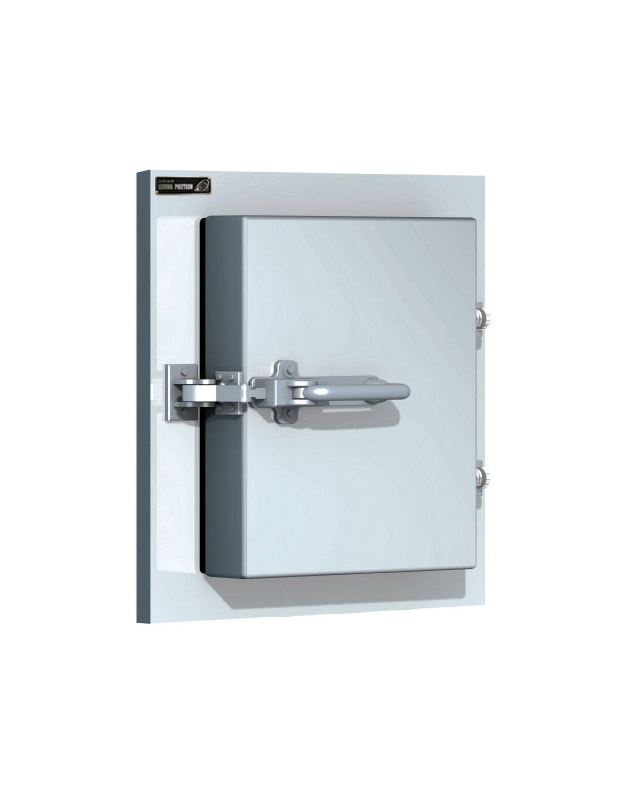 [standard]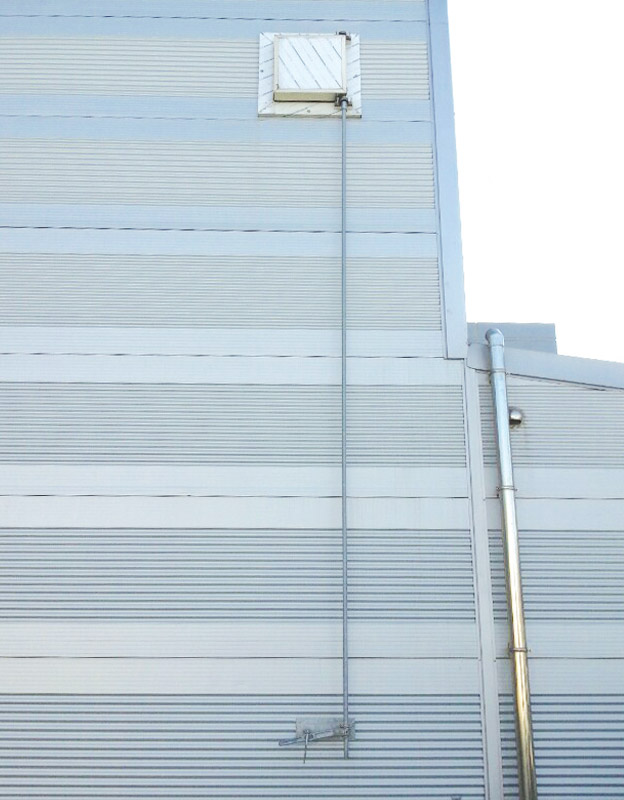 [lever-type]
Vents are ideal for cold storage rooms containing agricultural·fishery·animal products in order to release odor and gases.
Sub-doors have heaters built in to allow for easy transport of products to and from the cold storage room.
Based on 500 X 500㎜ opening
Types : standard / lever-type