Reason for Selecting
Leehwa Polytech's Cold Storage Rooms
1

Stable Production Management

Products are produced through a manufacturing process kept under strict quality control based upon expert knowledge accumulated through 25 years of business. Therefore, our products are easy to install, durable and corrosion resistant.

2

Panels with Excellent Quality and Design

We produce urethane panels in 4 colors in order to provide consumers with a wider range of options which is a step forward when compared to the simple panels of the past. 『Gold flower (new product)/Silver stucco/Ivory/Stainless steel』

3

Condensing Unit

It is a refrigeration device produced by our subsidiary LHTM and can be ordered with our panels.

4

Differentiated Door Design

Aesthetic elements have been accentuated through the application of color patterns on the doors.
『Wine (new product)/Blue/Brown/Silver stucco』

5

Finishing Materials and Fittings

Quality of finished products have been enhanced using clean finishing materials and sturdy fittings.
Cold Storage Room
Internal Accessories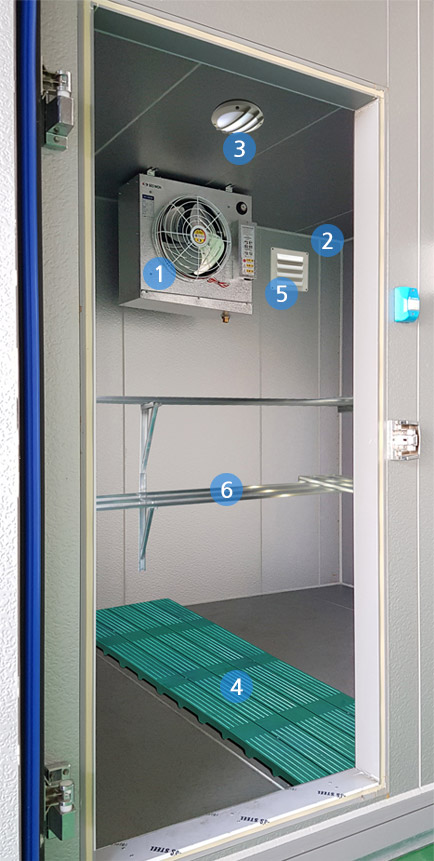 1

Unit Cooler

Unit cooler produced by LHTM


2

Interior Angles

Allows for a clean interior finish 『silver/gold/ivory』


3

Lighting

[Waterproof LED light]

[General waterproof light]

4

Plastic·wooden floor grating

Prevents slips due to wet or icy surfaces


[Plastic floor grating]

[Wooden floor grating]

5

Pressure Relief Vent

Adjusts the internal pressure of the cold storage room


6

Interior Shelving
Temperature and Duration of Stored Items
| Item | Storage Temperature(℃) | Relative Humidity(%) | Shelf Life | Freezing Point(℃) |
| --- | --- | --- | --- | --- |
| apple | -1~-4 | 90 | 3~8 months | -1.1 |
| orange | 0~9 | 85~90 | 3~12 weeks | -0.8 |
| strawberry | -0.5~0 | 90~95 | 5~7 days | -0.8 |
| cabbage | 0 | 95~100 | 5~6 months | -0.9 |
| potato | 3~10 | 90~95 | 5~8 months | -0.7 |
| seeds | 0~10 | 50~65 | 10~12 months | - |
| beans(dried) | 10 | 70 | 6~8 months | - |
| frozen fish | -29~-18 | 90~95 | 6~12 months | - |
| oysters | 0~2 | 100 | 5~8 days | -2.2 |
| rice wine | -1~1 | 95~100 | 18 days | -2.2 |
| smoked herring | 0~2 | 80~90 | 10 days | -2.2 |
| shrimp | -1~1 | 95~100 | 12~14 days | -2.2 |
| beef(fresh) | 0~1 | 88~92 | 1~6 weeks | -2.2~-1.7 |
| frozen pork | -23~-18 | 90~95 | 4~6 months | - |
| egg(fresh) | -2~0 | 80~85 | 5~6 months | -2.2 |
| milk(fresh) | 0~1.1 | - | 2~4 months | -0.56 |
| butter | 4 | 75~85 | 1 months | -2.0~-0.6 |
| cheese | -1~1 | 65~70 | 18 months | -13.3 |
| margarine | 2 | 60~70 | more than 1 year | - |